For many international students, applying to universities in the UK can be quite daunting. UKG has a dedicated team with years of experience in the UK Higher Education Sector to provide you with a useful guide to the British university system. This article will take you step by step through the UCAS application process.

UCAS (Universities and Colleges Admissions Service)
UCAS is an independent organisation that processes all applications to UK universities for full-time undergraduate courses.
Applications to part-time courses are slightly different and you will need to contact universities individually to find out how to apply.
If you are looking for postgraduate study, some are accessed via UCAS' UKPASS service, while others are processed by direct application.
There are over 380 Universities / Colleges and 37,000 courses available in the UK. You should make the most of the course search tool on the UCAS website. It has the most up-to-date information on course details, entry requirements and fees.

Key dates to remember for 2017 university entry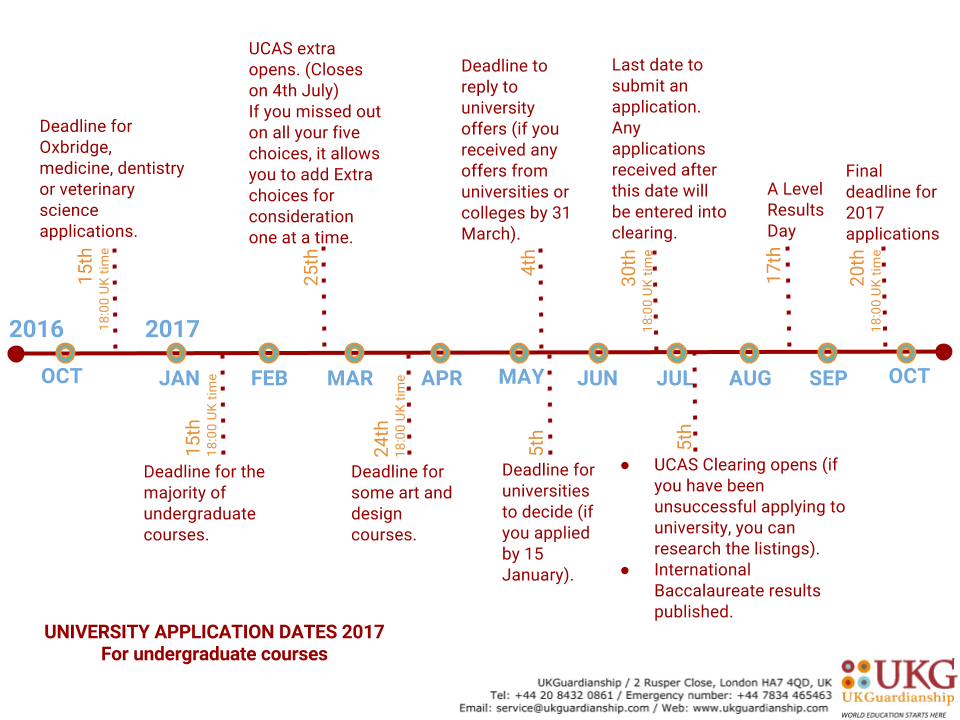 6 September 2016 – completed applications can be submitted to UCAS.
15 October 2016 (18:00 UK time) – deadline for Oxford or Cambridge, medicine, dentistry or veterinary science applications.
15 January 2017 (18:00 UK time) – deadline for the majority of undergraduate courses.
24 March 2017 (18:00 UK time) – deadline for some art and design courses.
30 June 2017 (18:00 UK time) – last date to submit an application before Clearing.
International students from a non-EU country can submit an application to UCAS at any time between 1 September and 30 June in the year preceding the academic year that studies commence.
However, most students apply well before 30 June to make sure that places are still available and to allow plenty of time to make immigration, travel and accommodation arrangements.
UCAS application cost
The fee for applications is £13 for a single choice or £24 for multiple courses.

Online UCAS applications: 6 sections to complete
1. Personal details
2. Choices
It is important to note that there are some restrictions regarding how many universities you can apply to. You have maximum of five choices, or maximum of four if you choose to study medicine, veterinary science, or dentistry.
You can not apply for both Oxford and Cambridge, you will have to choose one or the other.
Your chosen university
3. Education history
4. Employment
5. Personal statement
The personal statement is an important part of the UCAS application. It's your chance to describe your ambitions, skills, and experience.
You can write up to 4,000 characters of text that show you'd make a great student – so it might take a few redrafts until you're happy with it. You can use the UCAS personal statement worksheet to plan your personal statement.
6. Referee details
Reference added by the centre or an independent referee. The centre / applicant sends the form electronically to UCAS.

Decisions from universities (you will get 1 of 3 decisions)
Unconditional offer – you are accepted with no conditions
Conditional offer – you are accepted but only if you achieve the A-level/IB grades required
Unsuccessful – you have not been accepted
Applicant replies (reply to your offers by 6 June)
Firm – your top choice of university
Insurance – your second choice, usually lower conditions in case you do not achieve the required grades of your firm choice
Any other offers must be declined
Confirmation of places after receiving your A-level/IB results
Met the conditions of your firm? Time to celebrate!
Missed out on your firm but met insurance conditions? Also time to celebrate!
Not met the conditions of either? You could still get a place through Clearing which runs from early July to October.

Need extra help?
We hope our UCAS guide has been helpful; however, if you need any extra help with your university application, please don't hesitate to contact us at service@ukguardianship.com or +44 (0) 20 8387 4095.