"A mentor is someone who sees more talent and ability within you, than you see in yourself, and helps bring it out of you." — Bob Proctor
If you have already done research into how to improve your academic skills and reach your full potential, you have probably heard of Academic Mentoring Services. If not, or if you feel like you still need more details, please read below.

What does Academic Mentoring mean?
Mentoring in general means that a person who has more knowledge than another person helps them in the form of training or advice. Academic Mentoring means that this situation is applied to your education and career goals, meaning someone who has the necessary knowledge can help you to improve your educational outputs and/or help define your goals.

How can Academic Mentoring help me?
Academic Mentoring helps students to reach their full potential, in the way that their academic progress is monitored, analysed and improved. Based on your personal career aims, we can help you to reach your goals; or if you do not yet have set goals, we can give you advise on what you could do based on your interests, strengths and weaknesses. For example, this could mean helping you to choose the right GCSEs, A-Levels or University course, providing you with experienced tutors if needed, preparing you for important interviews and more.

Who are Academic Mentoring Services for?
Academic Mentoring Services are perfect for students who are hoping to be accepted into a top school or university, who would like to improve their exam grades or who need additional help with their studies. The services are available to suit all levels, interests and learning needs.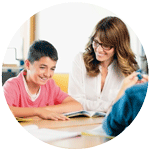 What services are included in an Academic Mentoring Package?
The UKG Academic Mentoring Package includes:
Liaising with the student, parents and school throughout the academic year.
Academic performance monitoring to ensure the student is on track with their studies.
All school reports are analysed and sent to parents with translations.
Attending all parents' evenings and sending a report to the parents.
Consultations with school teachers to ensure students are doing well in school and studying the correct subjects.
Academic progression consultations with trained education consultants where students can discuss their strengths and areas to develop.
Arrangement of private tutoring sessions with qualified and experienced tutors, keeping students motivated and maximising their potential (available on request).
Providing advice to student on studying in the UK and choosing GCSE / A-level subjects.
UK school or university placement services ensuring students gain a place at the best possible education establishment.
For more information, visit our website at ukguardianship.com/services/mentoring/ or contact us at service@ukguardianship.com or +44 (0) 20 8387 4095.