The cutoff date for most university applications was last Sunday, 15th January 2017. If you missed this deadline for whatever reason, do not panic! You can still apply! This useful article will take you through all the options that are open to you.

Option 1 – Applying through UCAS as a late applicant:
You can apply now and until 30th June 2017 as a late applicant. Your UCAS form will still be forwarded to the universities you've applied to; however, admissions tutors are not obliged to consider you because of 'equal academic consideration' (this guarantees each applicant equal consideration as long as they apply by the deadline).
Applying after 15th January means a university doesn't have to employ this rule and can reject you even if you meet the entry criteria. It also depends on how many candidates are ahead of you in the queue, or have already been given places. Needless to say, you should still prepare your application as thoroughly as possible as there is still a chance that you can be offered a place using this method.

How to find available late applicant courses?
The UCAS course search tool is a good starting point to check available courses. When using the UCAS course search, tick the search option entitled 'courses open to new applicants'. Don't rely solely on these listings though as course availability is changing all the time. University websites should also tell you if they are accepting late applications.


Option 2 – Applying through UCAS Extra:
UCAS Extra is a free service which allows applicants to apply to one course at a time between 25th February and early July. It is available to those who have made five initial choices, but either have been unsuccessful in all cases or have declined any offers they received. If Extra is available to you, it will show up as a button when you sign in to track your application.

How to find available UCAS Extra courses?
You can find available UCAS Extra courses by using the UCAS course search tool. Courses that are in Extra are marked with an 'x' and those currently closed to new applications are marked with a 'c'. University websites should also tell you if they are accepting late applications.

Option 3 – Applying through UCAS Clearing: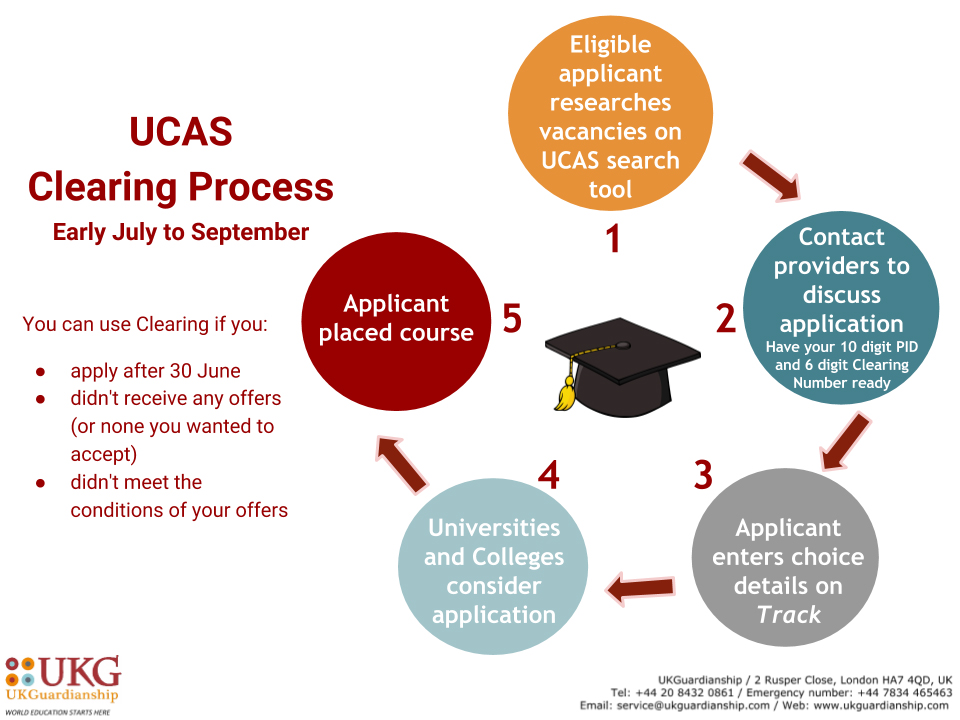 UCAS Clearing starts in July and ends in September. If you receive no offers, decline all offers, do not meet your offer conditions or simply miss the June deadline, this is the time when any empty places are up for grabs.
It is always a good idea to seek professional advice from an advisor at your school on alternative courses you can take.
UCAS has the official vacancy list online and it is updated regularly.
The best way to secure yourself a place through Clearing is to ring the university directly. Remember to have your 10 digital Clearing number and UCAS ID ready.
If you were made an offer over the phone, click 'Add Clearing choice' on Track and fill in the course details by the date the university/college gave you on the phone. This counts as you definitely accepting the offer, so if they confirm it will show as an acceptance on the choices page of Track and they will send you a confirmation letter.
If you need any help with your UCAS applications through Extra or Clearing, do not hesitate to contact us at service@ukguardianship.com or +44 (0) 20 8387 4095.