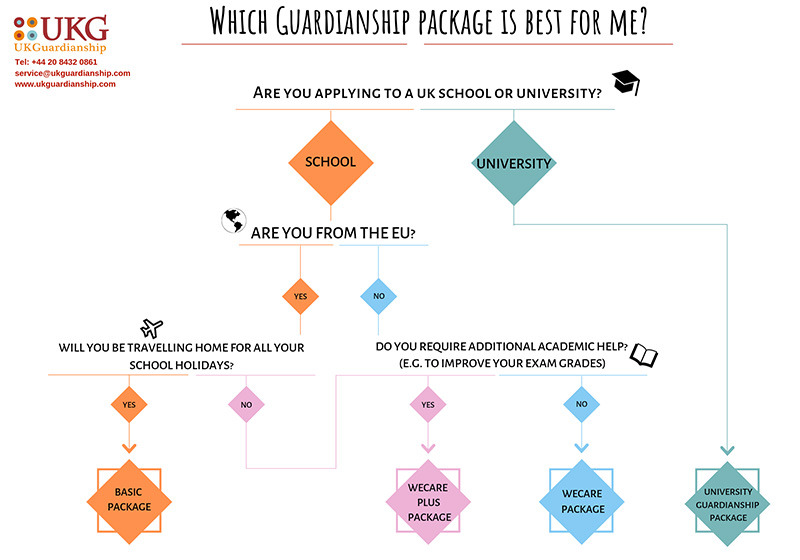 Choosing to study abroad is a life changing decision and each detail should be considered carefully. The choice of boarding school/university is top priority; however, everyday life is just as important as school life and we believe that students need the best support during their amazing adventure.
UKG offers different packages to suit all students' needs and budgets. We also offer tailor-made packages so if you feel as though you don't fit exactly into one of the categories below, please contact us and we will create the perfect guardianship package for you.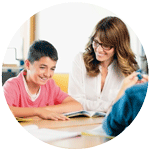 WeCare Guardianship
WeCare is our most popular package and comprises a comprehensive guardianship service including 24/7 emergency contact and accommodation and transfer arrangements during half terms and exeat weekends. WeCare also includes monthly contact with students plus 2 visits per year, school reports sent to parents with a translated summary and financial management of the emergency fund.
This package is ideal for overseas students studying in a UK boarding school who require arrangements during school holidays, as well as someone to act on the parents' behalf with issues in the school and ensure the student is being safely looked after in the UK.
For prices and a list of all WeCare services, please visit our packages and prices page.

WeCare Plus Guardianship
WeCare Plus consists of all the guardianship services included in our WeCare package plus additional academic support and mentoring. We are in regular weekly contact with students and visit them 4 times per year. We work very closely with the student to ensure they gain the best possible GCSE, A-level or IB grades and reach their full academic potential.
Services offered include attending all parents' meetings and sending a report to parents, academic performance monitoring and academic progression consultations with students/parents and productive advice given.
WeCare Plus is perfect for students striving for academic excellence or in need of academic mentoring and monitoring in addition to extensive guardianship services.
For prices and a list of all WeCare Plus services, please visit our packages and prices page. We also offer an Academic Mentoring package for students who require academic support without the guardianship services.


Basic Guardianship
As the name suggests, our Basic package offers essential services such as 24/7 emergency care and assistance, providing official documents as required by schools and authorities and regular contact with student (twice per term).
The Basic package is perfect for students whose parents will collect and return them to school for every school break/holiday but who need an appointed guardian for emergency situations.

University Guardianship
University life is quite different from secondary school. Students need to be more independent in their studies and generally more mature. It can be quite a stressful time, particularly for students who are studying in the UK for the first time, so having a 24/7 emergency contact on hand is a good idea.
The UKG University guardianship package is ideal for students under the age of 18 who are applying to a UK university or college and need to meet the guardianship regulations.
More information and prices can be found on our University Guardianship page.

VIP Package
A tailor-made VIP package can be arranged for students with particular requirements. For example, students with special educational needs, students requiring constant academic/well-being support or students striving for top academic results and Oxbridge/G5 university placement. Please contact us for more information.



Examples:
A Taiwanese student is about to take her GCSEs and requires extra help to gain good grades. She has some difficulties with the English language and wants to improve her level. We would suggest the WeCare Plus package and additional tutoring sessions.
A German student is studying in a UK boarding school (Year 8). For his holidays he always travels home to Germany to see his family. The Basic package is perfect as he does not need any holiday arrangements or academic support at the moment.
A Russian student in Year 9 studies at a UK boarding school but needs to stay in the UK during school holidays and exeat weekends. He does not currently need any additional academic support. The WeCare package is ideal for him.
An Argentinian student is studying at a UK university and although she is over 18, she has a learning disability and requires constant academic and welfare support that the university cannot offer. In this case, we would create a tailor-made VIP package for the student.