With all secondary schools in the UK closed due to Covid-19, most schools have been offering an online learning solution. However, this type of learning cannot compare to direct classroom tuition with one-to-one help from a teacher.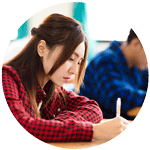 GCSE and A-level exams were cancelled for this academic year, with a grade being awarded to students without having to take any examinations. Next years' exams, however, are still due to go ahead.
Due to Covid-19, students have missed approximately one third of the school year. For students in years 10 and 12 with exams coming up in 2021, this is a huge amount.
Many students would benefit from having additional one-to-one online lessons during the summer holiday to ensure momentum is kept up and they do not fall behind in their studies.
Tutoring subjects and levels
UKG has a team of highly qualified and experienced tutors on hand to help students at all levels, particularly those needing help with GCSE and A-level work. Tutors can help to revise topics already taught, pre-teach new topics or offer help with exam skills.
We have specialist tutors who are able to teach almost all GCSE and A-level subjects including:
EFL tutoring
Maths and Further Maths
Sciences: Physics, Chemistry, Biology
English Language and Literature
Economics
Business Studies
History and Geography
Foreign Languages
Design and Technology
Essay Writing
And many more…
Many of our tutors are also bilingual which can be very useful for students who are struggling with vocabulary.
In addition to tutoring, we are also a UCAS Registered Centre and can offer UCAS application advice and assistance to students. For students looking for long-term academic guidance and support, please ask about our Academic Mentoring or Oxbridge/G5 Preparation programmes.
Contact us today with your requirements and we will be happy to put together a personalised study plan for the summer holidays free of charge. As well as top quality tuition, we also provide additional support to students and regular progress reports to parents.
Contact us
Book tutoring
sessions