If this is your first time studying in the UK, you may get a shock in your first few weeks at your new school or university. Cultural differences can cause confusion and anxiety to some students as the way their UK school/university is run, the way students and teachers work and the expectations of students can vary a lot from what you are used to in your own country.
Below are Susan's 5 top tips to help you settle quickly into your new student life and thrive:

1. Change the way you learn.
Be more proactive (ask questions; read around the subject; show initiative to take in knowledge from sources other than the classroom, such as conferences organised by external academic or professional bodies).
Learn through interaction with teacher/student discussions rather than drilling the books.
Take on a younger mentee and through coaching him/her on a specific subject, you can consolidate your own learning in the same field.
2. Sharpen time management skills.
Break down big chunks of work (essays, projects, EPQ) into small parts and reach different stages one step at a time (set milestones for yourself). Find out from your school/university what the major and minor deadlines are for coursework/essays/projects in the coming year, as well as the dates for important exams. Work backwards and allocate adequate time for preparation to ensure you start planning towards these deadlines and major exams with enough head start. Cut out or at least minimise unnecessary habits such as gaming, social media surfing, shopping in order to maximise your potential.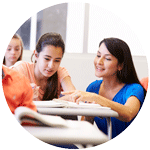 3. Socialise and network.
Build up and keep good relations with your peers, teachers and advisors. Build rapport for a rainy day, future reference or just an easier life — you will most definitely need your teachers/advisors to write a good reference when you change schools, apply for universities or even apply for work internships.

4. Start work experience applications early.
If you are looking to start a career in certain industries that value work experience such as medicine, finance, hospitality, education, law, real estate, etc., you will be in a better position as a contender if your experiences start early. While most students will only begin to think about summer internships come the third term (after May each year), if you start the race for application as early as November the year before, you will most likely beat everyone to it. On a different note, you will be tied to revision and exams post May time, so if you leave it so late, you won't have time or energy to focus on getting yourself onto the best possible option.

5. Keep an open mind and accept the differences.
The tasks might be the same, but people of various cultures and background will hold different attitudes and work differently. Before you start judging on why people in the UK queue for everything, book appointments ahead, write down all the working-out processes in a simple Maths question, give credit to authors you have referred to or quoted from in your work…you have to remember, part of the fun of coming to the UK to study is to learn about the differences both inside and outside the classroom. Embrace the differences and surprisingly you may find the process of enlightenment delightful.