If you book educational guardianship services with UKGuardianship, the first thing we will do is appoint you with a dedicated AO (Administration Officer). Your AO will be your main point of contact before and during your time in the UK. This means that you will always speak to the same person if you have any questions or problems while you are studying in the UK.
What is the role of my UK guardian?
Your UK guardian (Administration Officer) will look after you while you are in the UK. They will not be in the school with you but you will be able to phone them anytime if you have any questions or problems.
You can expect your UKG AO to do the following:
Regular contact, help and support for both students and parents.
Possession of the 24/7 emergency phone.
Responsible for the safeguarding and welfare of students.
Ensuring all students understand and follow the schools' and UKG's rules.
Visiting students, schools and homestays as and when needed.
Organising educational activities and visits.
Keeping track of students' academic progress at school.
Dealing with any financial, medical and administration needs.
Providing advice and support on school and university selection.
Meet our new Guardianship Administration Officer
We are excited to have Shirley as the new AO (Administration Officer) in our Stanmore Office.
Below are some key facts about Shirley: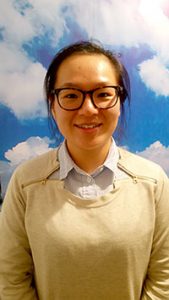 Shirley has extensive experience in education in various national and international contexts.
Shirley attained a first-class honours in BA Sociology from the University of Kent, alongside a year in Hong Kong.
During her role as a Student Ambassador, Shirley gave campus tours, delivered presentations and ran Personal Statement workshops to UCAS candidates at university open days.
In her previous position as a Student Welfare Officer, Shirley was responsible for all aspects of student welfare and safety including helping students to adjust to life in the UK.
"Having moved from China to study in the UK at the age of 14, I benefited and am a great example of the benefits of a fast expanding international education market. I had many amazing opportunities and experiences that I never dreamt of when I was in China. With my combined Western and Eastern background, and eight years studying in the UK, I want to offer my personal experience and knowledge to students who wish to study in the UK and to build long-lasting bridges between our students and UKG."
UKG is constantly striving to provide excellent educational guardianship and academic services. With a team of knowledgeable, experienced and dedicated staff, world class education starts here with UKG. Please contact us for more information or if you have any questions.