UK's education has a strong reputation and a globally-recognised curriculum. Private schools (also known as independent schools) in particular have a long history of academic excellence. Therefore, it is no surprise that the process of finding and getting accepted into a top UK school can be complex and time-consuming. This article will give parents a better understanding of what is involved when applying to private schools in the UK.

How many schools can I apply to?
You can apply to as many schools as you wish; however, you will need to make a separate application to each school. Most schools charge a registration fee when the application is submitted so it is a good idea to keep this in mind and be selective when applying to schools.

How can I find the best private schools to apply to?
Finding the best schools to apply to can be a difficult task as there are so many schools to choose from and many factors to consider, e.g. school location, ranking and facilities. Our 'how to choose UK schools' article will give you more information to help with your selection process.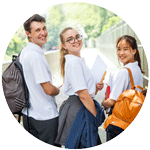 Should I visit the schools before I apply?
It is not advisable to solely depend on the information found in school prospectuses. It is always a good idea to attend school visit days before applying, so you gain a better sense of the culture of the school, the facilities and the quality of the education it provides. It is also worth considering the child's individual needs. If you are not able to visit the school yourself, you could ask a friend or representative to visit on your behalf.

Should I apply to boarding schools or day schools?
This depends on your own family's circumstances. Boarding schools are ideal for busy parents or international students.
When applying to a boarding school, there are full boarding (7 days a week), weekly boarding (5 days a week) or flexible boarding options. You need to consider what type of boarding your child needs.
For more information regarding the differences between day and boarding schools, please read this article.

What are the admission procedures for UK private schools?
With around 2,500 private schools throughout the UK, the admission criteria and procedures can vary. Please check specific entry requirements directly with the school. However, below is the general overview of what admissions procedures entail.
● Registration
Although some schools will continue to consider applicants right up until they are full, registrations to the top schools usually need to be made at least a year before entry. We advise parents to register as early as possible, in order for the child to stand a better chance of securing a place in the desired school. The non-refundable registration fee can range from under £100 to several hundred pounds.
● Application form
Each school has their own application form and separate forms will need to be filled in for each school you apply to.
● Admission tests
Many schools require prospective pupils to take admission tests. These tests are challenging as they are designed to source out students with strong academic potential. The materials therefore are often beyond grade level. In order to do well in the tests, preparation is key. Students are recommended to practice the tests and become familiar with the style of the questions. It is often advisable to hire a specialist tutor to help your child prepare.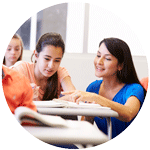 ● Interview
Schools may invite the family or the student for an interview. More and more schools are happy to conduct Skype interviews for overseas applicants.
● References
Most schools require written references for students written by previous teachers or tutors.
● English as a second language
International students are often required to provide evidence of their level of English to ensure they will cope in the classes, e.g. an IELTS test.
● School reports / transcripts
School reports or transcripts from the previous school usually need to be provided as a part of the admission procedure.

How do I know if my school application has been successful?
If the student is accepted by the school, parents will receive an offer letter and be given a fixed period (e.g. 2 or 3 weeks) to reply. A deposit is usually required at this stage in order to secure the place.
For international students, schools will then issue a CAS letter with the offer which they can use to apply for a Tier 4 visa.

Can someone help me to find a UK school?
The good news is that you do not need to go through this complicated process alone. By booking our UK School Placement Service, we will do the hard work for you. We will work with you to find the best possible school for you/your child, we will arrange for you to visit schools or we can visit them on your behalf and we will assist you with the application process. We also have contacts in many schools throughout the UK and can speed up and track your application.
We have been running our UK School Placement service since 2002 and we have successfully helped students to gain admission into top UK schools including Westminster School, Downe House School, Queen Ethelburga's College, Wycombe Abbey School, Sevenoaks School and Concord College.